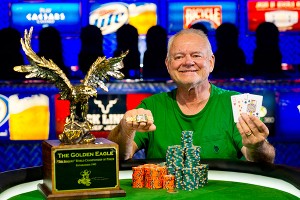 Well, the first question always is: is poker a sport?
If they cover it live on ESPN, then it's a sport in my book. And there are also a lot of great characters in poker, like any great sport. You also have to have some great underdog stories like that of 68-year-old Kenneth Lind, a retired Army officer and great grandfather. Since he retired, Lind has had some extra time to play poker in his Layton, Utah home. Apparently A LOT of extra time. So his poker buddies egged him on telling him he should enter the World Series of Poker Seniors Event. (Likely secretly hoping he'd get his ass kicked and come home a humbler, but wiser, poker player.)
So Lind went to Las Vegas this week, paid his money to enter the WSOP poker tournament and made it through the first round. Then into the second round, then the final table–as the oldest participant -and finally ended up winning the whole thing, collecting a record $634,809 in prize money. To top things off (and probably rub it in to the guys at home) Lind had his name being added to the famous Golden Eagletrophy.
Probably not what his Army buddies had hoped for when the told Lind to get into the tournament this year. Now they're really going to hear it from him.
Source: ESPN