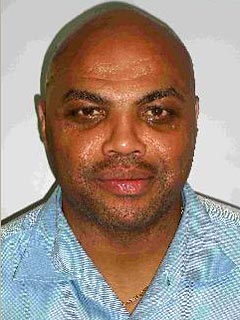 Here's the latest on the Sir Charles arrest for drunk driving back on December 31. According to police, test results released last week show that Barkley had a blood-alcohol level nearly twice the legal limit: .149%. Now, that's some drinking, but not nearly enough to make it into the Top Twenty of the BadJocks BAC Rankings. However, we may want to give Charles an Honorable Mention simply for the fact that he admitted to cops he was a on a quest for oral sex at the time of his arrest.
In addition, Barkley has temporarily stepped down from his color commentary work for TNT's coverage of NBA basketball games.
If convicted, Barkley faces between one to 10 days in jail, the suspension of driving privileges for 90 days, and a fine of $1,000 or more.
Interestingly, at .15% BAC, the punishments would have been much more severe. Not saying anyone fudged the results so that Barkley wouldn't face more jail time, but it is kinda strange that he's .001% under that level. At right, Charles Barkley's really, really sweaty mug shot. (People)